(Firebird, #1)
I meant it when I said I didn't believe in love at first sight. It takes time to really, truly fall for someone. Yet I believe in a moment. A moment when you glimpse the truth within someone, and they glimpse the truth within you.
Marguerite Caine emerges in a new dimension, knowing one thing. She must kill Paul Markov.
The daughter of physicist inventors who have created the Firebird (a device which takes you to different dimensions), Marguerite chases the man who murdered her father and then disappeared into the next available dimension. As she meets a different version of Paul in each world, she begins to doubt his role in her father's death, while facing her own confusing feelings for him that grow with each dimension leap.
Cover Appeal: 5/5
This was a cover buy/cover gift. Neither Kelsey or I knew what the book was actually about, but it was on my TBR list and she bought it for me two years ago as a Christmas present. It is so pretty, with the cover showing two different dimensions – the one she lives in, and the one she spends most of the book in. The colourful cities on the white cover draw readers in to the vast, descriptive world that Gray builds.
Characters: 4/5
There were some small issues I had with Marguerite. I thought it was almost too convenient to have her as an inventors daughter who hates physics. It is like a brush over on how things work, and readers get a shrug when it comes to the Firebird – like "oh well, daddy made it so I'll push the red button."
The additions of the multi-dimensional characters were beautifully created, and everytime I met a new version of Paul, I fell in love alongside Marguerite.
Let's not talk about Theo, because 1 spoilers and 2 forced love triangle. Bleh.
Plot: 4/5
Fast paced, gorgeously detailed, it spins a web of worlds that come together for an epic finale, leaving readers ready to read the next book. I thought somethings were eye roll worthy, but not enough to lose another star.
Enjoyability: 5/5
I loved spending all that time in Russia Marguerite's dimension. It gave me a breathy Anastasia feel (that train scene tho), and Paul – Pavel – was definitely Swoon Material.
KH Rating: 4.5/5
It was a fantastic read. It kept me guessing, and full of excitement each time she jumped into a different dimension. Seeing how easily small changes can affect our entire future was fascinating to view through her eyes. 
I am looking forward to seeing if her feelings for one Paul mean she is in love with all Paul's, or just the one in the specific dimension. I am definitely a Paurguerite shipper.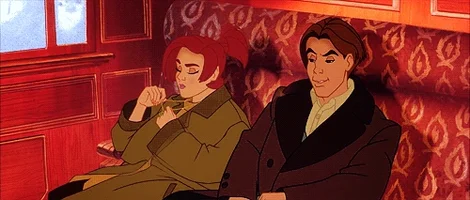 Book 14/40

Kristen & Kelsey's 40 Book Challenge
Check out my beautiful bookmark sister Kelsey's blog and her Instagram to see how she is doing!
#kristenandkelseysfortybookchallenge